Gert G. Wagner is awarded the Federal Cross of Merit 1st Class
The Federal Cross of Merit is awarded for special achievements in political, economic, cultural, intellectual or honorary fields.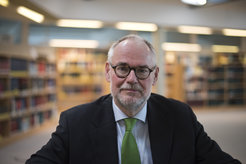 Max Planck Fellow Gert G. Wagner has been awarded the Order of Merit of the Federal Republic of Germany by the Federal President for his work in communicating science to policy makers and society at large. "Professor Wagner contributes to the societal and socio-political discussion not only as a scientist, but also through his voluntary work in many important functions," said Christian Gaebler, head of the Berlin Senate Chancellery, during the award ceremony. Gert G. Wagner has been a Max Planck Fellow at the MPI for Human Development since 2008. As a policy advisor, he is a member of the German Federal Government's Committee on Pensions and the Advisory Council for Consumer Affairs.