Training at the Max Planck Institute for Human Development
Whether in the graphics department, the IT department, or the cafeteria—we have been training bright young people in various occupations at the Institute since 1986. The trainees are able to work and study under optimal conditions and are often among the best graduates of their year. As an institute that researches human development and learning processes, we attach great importance to being involved in occupational training and getting young people's careers off to a great start.
Training Programs at our Institute
Digital and Print Media Designer
Digital and Print Media Designers are the creatives at our Institute who ensure that scientific content is presented in an engaging and easy-to-grasp way. They are responsible for designing digital and printed information material such as books, flyers, and infographics. Our trainees are involved from start to finish in developing ideas, putting those ideas into form, and creating the finished product.
Contact: Jürgen Rossbach
---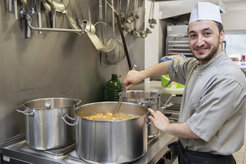 Hospitality and Catering Specialist

Trainees in the area of Hospitality and Catering work in our Institute cafeteria and ensure that our staff and guests feel at home. They prepare meals, serve guests, and provide the catering for events.
Contact: Arno Schneider
---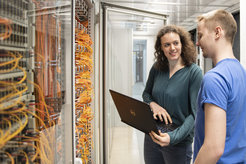 IT Specialist for System Integration
IT Specialists for System Integration implement user-specific information and communication solutions. This includes the installation and set-up of hardware components, operating systems, and networks. They also advise and train Institute staff.
Contact: Philipp von Hugo

Opportunities in the research area