VW Foundation-Grant for Stephanie Lämmert
The project "African Studies in Germany through the lens of Critical Race Theory" is one of nine projects that prevailed among 196 applications.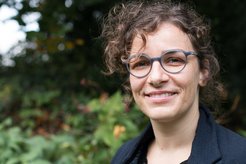 The funding initiative "Open Up – New Research Spaces for the Humanities and Cultural Studies" of the Volkswagen Foundation has awarded Stephanie Lämmert, researcher at the Center for the History of Emotions, a grant. The funding initiative aims to support projects, which explore new and original research approaches, thereby uncovering untapped research spaces.
Lämmert's project explores the colonial roots of African Studies in Germany and the absence of race as an analytical category in this field from the perspective of Critical Race Theory. She is collaborating with Yusuf K. Serunkuma from the University Halle-Wittenberg and Dr. Serawit B. Debele from the University Bayreuth.
---
Find more information on the third-party funded project and in the Press Release of the University of Bayreuth.