Gert G. Wagner is Fellow at the Federal Institute for Population Research (BiB)
The BiB collaborates with outstanding researchers in its new Fellow Programme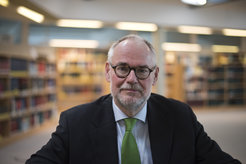 Gert G. Wagner, Max Planck Senior Fellow at the Max Planck Institute for Human Development, has been accepted into the new Fellow Programme of the "Federal Institute for Population Research" (BiB, Wiesbaden and Berlin). With this initiative of the new BiB director C. Katharina Spieß, the BiB honors in a first round 29 excellent researchers from Germany and abroad, whose work makes a significant contribution to the field of population research. The scientific work of the BiB is strengthened by the cooperation between researchers of the Federal Institute and the BiB Fellows, for example in the context of joint projects, publications and events.
The Federal Institute for Population examines the causes and consequences of demographic change and has the task of advising the Federal Government and Federal Ministries on the basis of scientific research.
Wagner's research focuses on the causes of individual differences in life courses, with a special focus on risk preferences. He works primarily with the data of the German Socio-Economic Panel Study (SOEP), which he directed from 1989 to 2011.