Nils Köbis receives EU Horizon Grant   
Horizon Europe is the EU's most important funding program for research and innovation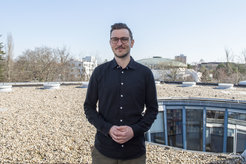 Nils Köbis, Senior Research Scientist at the Center for Humans and Machines, has received an EU Horizon Grant for his project RESPOND - Rescuing Democracy from Political Corruption in Digital Societies. He is part of an international consortium led by the University of Bolgna that has raised a total of six million euros.
The focus of his five-year project is to describe, explain and develop (technology-based) approaches to political corruption. Nils Köbis wants to gain new insights into the gray areas of political corruption that are not necessarily considered illegal under current legal frameworks. In addition, research will be conducted on how technology, such as artificial intelligence (AI), can be used to combat corruption at the national and transnational levels. This is based on a joint paper with Iyad Rahwan, Director of the Center for Humans and Machines, on the promise and perils of using AI to fight corruption (Köbis et. al, 2022).
The Horizon Europe program strengthens European collaboration and promotion of scientific and technical excellence, and additionally invigorates the impact of research and innovation in developing, supporting, and implementing EU policies and addressing global and environmental challenges.
The promise and perils of using artificial intelligence to fight corruption | Nature Machine Intelligence