Ralph Hertwig appointed as a new Member of the German National Academy of Science and Engineering (acatech)
acatech provides policymakers and society with independent, evidence-based advice that is in the public interest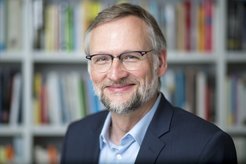 Ralph Hertwig, Director of the Center for Adaptive Rationality at the Max Planck Institute for Human Development, has been appointed as a new member of acatech, the National Academy of Science and Engineering. acatech is funded by the German federal and state governments and is the voice of the technical sciences in Germany and abroad. Its Members provide advice on strategic engineering and technology policy issues to policymakers and the public.
Scientists are invited to become Members of the academy on the basis of their scientific achievements and reputation. They are drawn from the fields of engineering, the natural sciences, medicine, the humanities, and the social sciences.
acatech currently has over 600 Members. They collaborate on projects with external experts from science and industry, as well as participating in the Academy's topic networks, where technical issues relating to the technological sciences and more general technology policy questions are discussed.