Healthy Excesses?
Dancing Bodies and the Economies of Exertion in Health Education Films of the 20th Century
Sandra Schnädelbach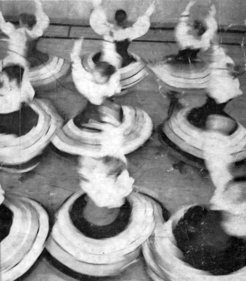 From ancient times dance has been described as 'original', 'innate', most 'natural' form of human expression, conveying the joy of life and the energy of a 'healthy' body. At the same time, dancing bodies since centuries have been labelled as dangerous and connected with obsession, addiction and excess: from phenomena of 'dancing mania' in the middle ages, scandals about expressionist dance styles on theater stages around 1900 or concerns about 'infectious' and 'morally destabilizing' dance practices like Rock 'n' Roll in the 1950s to debates about the unhealthy effects of disco culture as it emerged in the 70s. The notion of self-indulgence that often accompanies dance has historically always been ambiguous: either rejected as a form of wasting and risking bodily health or, on the contrary, praised as a mode of setting free energy, accessing new resources and gaining health.
What theories about the body were underlying these assumptions? And how did the rise of visual mass media shape or reshape images of body and health during the 20th century? What knowledge about the body was created via dancing bodies in moving images? Following these questions, this project inquires into changing constructions of health and into a history of body knowledge. It seeks to illuminate in what ways models of 'body economies' – ideas on how to budget resources, how to invest and regain energy – shaped interpretations of dancing bodies and framed dance as an (un)healthy practice.
With the 20th century, health sciences explored film as well as dance as epistemological tools for gaining body knowledge and unveiling unseen facets of human nature. To unfold the interrelation between dance and film, this project asks how the moving image was used
a) as a tool of examination: to make visible and examine dancing bodies
b) as a tool for education: to communicate knowledge about the body and its capacities
c) as a tool to shape practices: (re)producing dancing bodies.
The study focuses on German-speaking countries, especially in the second half of the 20th century, including West and East German perspectives. It aims to explore dance as a subject of investigation in the health sciences, by which the boundaries between healthy and unhealthy exertion, desirable self-transcendence and risky self-loss have been constantly redefined. In doing so, the project situates the production of body knowledge in a socio-political framework and discusses the ways in which ideas of the right management of bodily resources interacted with different economic models, ideals of social interaction and the positioning of the individual in society. In the age of visual mass media, the health education film – so the assumption – received a leading role in the classification and evaluation of dancing bodies, which went far beyond health policy aspects.