We Mourn the Loss of Wolfgang Edelstein
A celebrated education reformer, theorist of child development, and passionate democrat
Wolfgang Edelstein, director emeritus of the Max Planck Institute for Human Development, died on the last weekend of February at the age of 90. "We bid farewell to a renowned scientist, esteemed colleague, and amiable person whose ideas contributed to the establishment of our institute and defined its development over decades. I speak for our entire team in expressing our deepest sympathies with his family," said managing director Ute Frevert.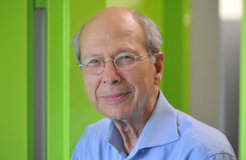 Wolfgang Edelstein was born in 1929 in Freiburg. In 1938, he and his family fled Nazi Germany to Iceland, an experience that greatly impacted his life. After completing his A-levels in Reykjavik, Wolfgang Edelstein studied linguistics, philosophy, ancient and modern languages, and education science in France and Germany. In 1962, he completed his doctorate in medieval Latin philology at the University of Heidelberg. He began teaching at the Odenwaldschule private boarding school in 1954. There he met Hellmut Becker, with whom he shared an interest in processes and contents of education in modern democratic societies. Together with Jürgen Habermas and Alexander Kluge, he wrote the memorandum that played a key role in Becker's negotiations with the Max Planck Society to found a new Institute for Human Development.
Edelstein followed Becker to Berlin in 1963. Ten years later, he became a Scientific Member of the Max Planck Society, and eight years after that, he became Director of the Research Center for Development and Socialization. His scholarship focused on intercultural analyses of the mutual relation between social inequality and cognitive as well as social-moral personality formation from childhood to adulthood. He was bestowed with an honorary doctorate in social sciences by the University of Iceland and was named honorary professor of education at the Freie Universität Berlin and the University of Potsdam, an institution that he helped establish.
After retiring in 1997, he continued promoting the education of democratic values in schools and spearheading projects that furthered democracy, such as in his capacity as the founder and longtime leader of the German Society for Democracy Education. He penned numerous texts on right-wing extremism and, in particular, right-wing extremist youth culture. He actively participated in events at the institute up until his death.
For his work and extraordinary social engagement, he was awarded the Federal Cross of Merit (First Class), the Hildegard-Hamm-Brücher Prize for Learning and Living Democracy, and the Theodor Heuss Prize.