Feeling Competitive – Sport as Affective Practice
Workshop, 12–14 July 2023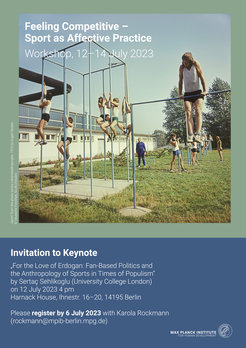 The workshop is organized by Helen Ahner, Max Jack und Julia Wambach.
Invitation to Public Keynote

"For the Love of Erdogan: Fan-Based Politics and the Anthropology of Sports in Times of Populism"
Sertaç Sehlikoglu (University College London)
on 12 July 2023 at 4 pm
at Harnack House, Ihnestr. 16-20, 14195 Berlin

Sports, as an area of focus, was often studied through bodies and embodiment. There has always been an anthropological and ethnographic interest and fascination by the flesh and movement of sporting body. However, as the growing literature on anthropology of sports demonstrates, sport also provides a venue to study the intangible; including the agentive desires, imagined involvement, and intimate attachments. This paper addresses the various forms of political love and devotion by thinking through anthropology of sports and fanhood, by looking at the Turkish nationals' devotion and love to the re-elected President Recep Tayyip Erdogan.
Sertaç Sehlikoglu has two undergraduate degrees (Sociology at Bogazici University and Anthropology at Concordia University), collaborative masters degrees (Socio/Cultural Anthropology and Gender Studies at the University of Toronto), and a PhD (Social Anthropology, Cambridge). Before joining University College London in 2020, she worked as an affiliated lecturer at the University of Cambridge and completed a visiting fellowship at The London School of Economics and Political Science, an Abdullah Mubarak al-Sabah Fellowship in Islamic and Middle Eastern Studies at Pembroke College, Cambridge, and a Gibbs Travelling Fellowship at Newnham College. Sehlikoglu is the recipient of several awards and grants, including a BRISMES (British Institute of Islamic and Middle Eastern Studies) PhD Award, a Wadad Kadi Fellowship, a BIAA (British Institute at Ankara) Study Grant, an Innovative Talent Foreign Expert Project Fellowship Award, and a European Research Council (ERC) Starting Grant (2019). She formerly ran the 'Desiring the Middle East' seminar series and 'Is Critique Islamic?' reading group for four years at the University of Cambridge and taught the following courses/papers/lectures: * Anthropological theory, *Anthropology of the Middle East, *Subjectivity and desire, *Gender and sexuality, *and Classical Arab theories — as part of the 'Decolonising the Curriculum' lecture series. Sehlikoglu is the author of three academic and two non-academic books. She is also the editor of the Journal of Middle East Women's Studies' Reviews Section.
Please register by 6 July with Karola Rockmann (rockmann@mpib-berlin.mpg.de).
If you are interested in the workshop as a whole, please contact Karola Rockmann.