Ralph Hertwig
Managing Director of the Max Planck Institute for Human Development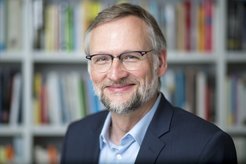 Director
Center for Adaptive Rationality
Assistance:
Maren Kutscha
Katja Münz
Petra Siemers-Hering
Phone: +49 30 82406-202
sekhertwig@mpib-berlin.mpg.de
Memberships and Service (Selection)
Member, German National Academy of Sciences Leopoldina, Section "Psychology and Cognitive Sciences"
Member, German National Academy of Science and Engineering acatech

Member, Berlin-Brandenburg Academy of Sciences and Humanities

Fellow, Association for Psychological Science (APS)
Member, Wilhelm-Wundt-Gesellschaft
Faculty, International Max Planck Research School on the Life Course (LIFE)
Fellow, Max Planck School of Cognition
Faculty, International Max Planck Research School for Computational Methods in Psychiatry and Ageing Research (COMP2PSYCH)
Research interests
Models of bounded and ecological rationality
Decisions from experience
The psychology of risk
Lifespan development of decision making
Evidence-based public policy (Boosting)
Short CV
| | |
| --- | --- |
| 2017 | Gottfried Wilhelm Leibniz Prize |
| since 2016 | Honorary professor, Freie Universität Berlin |
| since 2013 | Honorary Professor, Humboldt-Universität zu Berlin |
| since 2012 | Director, Max Planck Institute for Human Development, Berlin |
| 2005–2012 | Full Professor for Cognitive and Decision Sciences at the Department of Psychology, University of Basel |
| 2003 | Habilitation in Psychology, Freie Universität Berlin |
| 1995 | Ph. D. (Dr. rer soc.) in Psychology, Universität Konstanz |
Selection of recent publications
(the complete list of publications can be found here)
Haux, L. M., Engelmann, J. M., Arslan, R. C., Hertwig, R., & Herrmann, E. (in press). Chimpanzee and human risk preferences show key similarities. Psychological Science.
Hertwig, R., & Ellerbrock, D. (2022). Why people choose deliberate ignorance in times of societal transformation. Cognition, 229, Article 105247. Open access
Hertwig, R., & Engel, C. (Eds.). (2020). Deliberate ignorance: Choosing not to know. MIT Press.

Here is a book review essay by Thomas Hills.

Hertwig, R., Leuker, C., Pachur, T., Spiliopoulos, L., & Pleskac, T. J. (2022). Studies in ecological rationality. Topics in Cognitive Science, 14(3), 467–491.
Kozyreva, A., Lewandowsky, S., & Hertwig, R. (2020). Citizens versus the internet: Confronting digital challenges with cognitive tools. Psychological Science in the Public Interest, 21(3), 103–156. Open access
Lejarraga, T., & Hertwig, R. (2021). How experimental methods shaped views on human competence and rationality. Psychological Bulletin, 147(6), 535–564.
Leuker, C., Eggeling, L. M., Fleischhut, N., Gubernath, J., Gumenik, K., Hechtlinger, S., Kozyreva, A., Samaan, L., & Hertwig, R. (2022). Misinformation in Germany during the COVID-19 pandemic: A cross-sectional survey on citizens' perceptions and individual differences in the belief in false information. European Journal of Health Communication, 3(2), 13–39. Open access
Li, Y., Luan, S., Li, Y., Wu, J., Li, W., & Hertwig, R. (2022). Does risk perception motivate preventive behavior during a pandemic? A longitudinal study in the United States and China. American Psychologist, 77(1), 111–123.
Lorenz-Spreen, P., Oswald, L., Lewandowsky, S., & Hertwig, R. (2022). Digital media and democracy: A systematic review of causal and correlational evidence worldwide. Nature Human Behaviour. Open access
Reijula, S., & Hertwig, R. (2022). Self-nudging and the citizen choice architect. Behavioural Public Policy, 6(1), 119–149.