"This is us" - Questions for Sonja Sudimac
Our institute has over 300 employees. But that is just a number. Who are the people at our institute? What do they do and what drives them? In our "This is us" format, colleagues answer questions about their work and their motivation.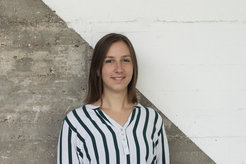 On the occasion of International Women's Day on March 8, 2023, we started the series "This is us" with 15 female scientists from our institute. We are picking up where we left off and introducing the scientist Sonja Sudimac from the Lise Meitner Group for Environmental Neurocience. In the last episode we introduced Yayouk Willems from the MPRG Biosocial.
One of your research topics at the Lise Meitner Group for Environmental Neuroscience is the effect of the environment on the brain and stress-related neural mechanisms. What fascinates you about this topic?
We know from research findings and our personal experiences that going for a walk in nature has the potential to enhance mood and reduce stress. What fascinates me in the Environmental Neuroscience field is to explore the neural mechanisms underlying these positive effects of nature as well as other environments on our mental health. I find it especially exciting to conduct real-life experiments in which participants go for a walk in nature such as Grunewald forest or in an urban environment. By measuring changes in the brain after the walk with MRI scans, we can gain insights into how these environments affect stress-related brain function.
What were your results on the effects of a natural environment on mental health?
Our results revealed a decrease in amygdala activity, the brain region involved in stress processing, after a one-hour walk in nature, showing for the first time the causal link between exposure to nature and a reduction of stress-related neural activity. The results suggest that going for a walk in nature may mitigate the adverse effects of urban living on the brain. These findings also hold implications for evidence-based urban design policies, emphasizing the importance of creating more accessible green areas in cities with the aim to enhance citizen's mental and brain health.
What would happen to a city person if they would move to the rural countryside?
One of the first studies in Environmental Neuroscience found that rural dwellers showed lower amygdala activity during social stress, than people who live in cities. This suggests that rural environments may be beneficial for this stress-related brain region. Based on this study, it could be expected that among city residents who move to the countryside, the amygdala over time may become less sensitive to social stress. In other words, a more stressful situation might be needed for the amygdala to get activated. However, it would be necessary to conduct experimental studies, which would enable us to examine this possibility and to make causal conclusions.
When did you realize you wanted to go into science and what advice would you give your younger self about starting a career in science?
I realized that I wanted to become a scientist when I was doing my internship and then working on my master thesis in the Max Planck for Human Cognitive and Brain Sciences in Leipzig. There, I had an opportunity to learn fMRI methodology, which was (and still is) fascinating to me, and I realized that I wanted to pursue research in neuroscience. I would advise my younger self to continue being creative and to wonder about the world!
What do you appreciate about the Max Planck Community?
I highly appreciate the atmosphere of collaboration and interdisciplinary within the Max Planck Community. When scientists from different fields have an opportunity to work together, groundbreaking ideas can emerge, as well as completely new fields, such as for example Environmental Neuroscience. I also value the independence we have as researchers, along with the support to put forward our own ideas and pursue cutting-edge projects. This, combined with the high scientific excellence within the Max Planck Community, creates an incredibly inspiring work environment.