"This is us" - Questions for Helen Ahner
Our institute has over 300 employees. But that is just a number. Who are the people at our institute? What do they do and what drives them? In our "This is us" format, colleagues answer questions about their work and their motivation.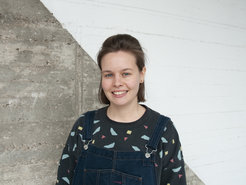 On the occasion of International Women's Day on March 8, 2023, we are starting the series with 15 female scientists from our institute. The first is Helen Ahner, who works in the research area History of Emotions.
One of your research topics in the history of emotions is ambition in female athletes. What fascinates you about this topic?
Ambition is an exciting and ambivalent feeling: being ambitious means wanting something and actively working for it. This kind of desire was and is not equally accepted for all people. Women's ambition in particular has long been perceived as dangerous, devalued and regulated – this is evident in labels such as the female overachiever or the career woman. Actively wanting something and being committed to it can be an empowering experience, though. On the other hand, ambition is associated with self-exploitation and at times entails a problematic competitive mentality. I am fascinated by the complexity of this emotion and I believe that its history reveals a lot about the possibilities and limits of female athletes in particular and FLINTA*s in general.
Why did you become a scientist? What motivates you?
I have a passion for my subject, cultural anthropology, which is the study of how everyday life works. As a cultural anthropologist, I question what many consider "normal" and unquestionable. I am motivated to understand how the structures, practices and rules that shape our lives have come about: How do we know what to feel and what (not) to feel? How do our bodies become bearers of signs of categories such as gender, age, origin, etc. and why do they become important as such? I am curious and want to understand how people create their worlds. Also, I want to critically draw attention to the fact that "normality" could also be different.
You are also involved in the Sustainability Team here at the Institute. Why are you doing this?
It is important to me personally to deal responsibly with the limited resources of this planet and I want to organise my everyday work more sustainably. I believe that large, innovative institutions like the Max Planck Society must take responsibility for the impact of their existence if we want to preserve the planet for future generations. I would like to contribute to fulfilling this responsibility. However, I am also aware of the limits of this voluntary commitment: Who will spare this time and energy? Who can spare it? If we really want to make a difference, we have to start at the structural level.
What do you appreciate about the Max Planck Community?
I particularly appreciate the great importance that is attached to enabling and implementing research ideas. And than the community: being able to collaborate, think and research with so many competent, smart colleagues is a great enrichment.