Shared responsibility in collective decisions
Zein, M.E., Bahrami, B., & Hertwig, R. (2019). Shared responsibility in collective decisions. Nature Human Behaviour, 3, 554-559.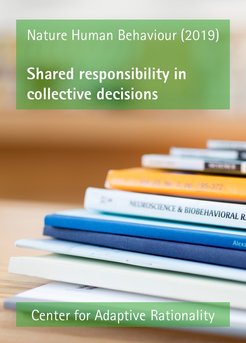 Research investigating collective decision-making has focused primarily on the improvement of accuracy in collective decisions and less on the motives that drive individuals to make these decisions. Ralph Hertwig and colleagues argue that a strong but neglected motive for making collective decisions is minimizing the material and psychological burden of an individual's responsibility. Making difficult decisions with others shields individuals from the consequences of negative outcomes by reducing regret, punishment and stress. Considering shared responsibility as another key motivation to join groups helps understand behaviours with societal implications such as political voting, committing norm violations, predicting natural disasters and making health-related decisions.