Projects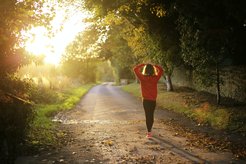 Acute effects of environmental stimuli
In several studies, we examine how the presentation of environmental stimuli – such as sounds, images, videos or smells or a combination of all – impact cognition or well-being (look at Methods for further information). We also conduct studies in which we ask our participants to take a longer walk in a certain environment and examine brain activity, as well as how they feel and how well they can concentrate before and after the walk.
Interiors and architecture
In this line of research, we are particularly interested in the effects of different architectural elements on people's experience and behavior. For example, we examine the influence of angular and curved shapes, ceiling heights, or room sizes on emotions and cognition as well as underlying brain functioning.
Long-term effects of outdoor living environments
The goal here is to use large cohort studies to examine the link between habitat – assessed via georeferencing methods – and brain structure and functioning. Cohorts that we are already actively using are the Berlin Aging Study II (BASE-II) and IMAGEN. We plan to continue soon with the Hamburg City Health Study (HCHS), the German National Cohort (NAKO) and UKBiobank.
Extreme environments
In several studies we examine different groups of people before and after they are exposed to extreme environments. We use functional and structural MRI to investigate the influence of habitat on brain plasticity. The habitats we study include the Neumayer Station III of the Alfred Wegener Institute in Antarctica; astronauts at the International Space Station (ISS) and the Human Exploration Research Analogue (Hera) (PI: Alexander Stahn, University of Pennsylvania, Charité University). In a new project we investigate the effects of prisons on mental health, behavior, and the brain in a naturalistic case-control study (together with Johannes Fuss, University Medical Center Hamburg-Eppendorf).